Guide to inviting and editing users in Sani analytics.
As the Primary contact person, you can invite Sani nudge Hygiene mentors or other colleagues to Sani analytics.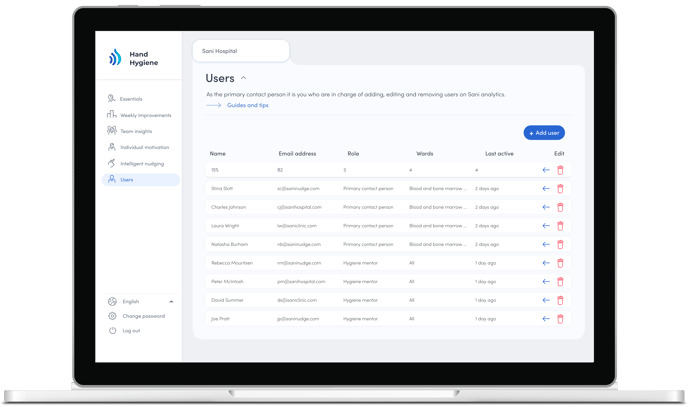 Step 1: Go to Users page on Sani analytics

Step 2: Click "+Add user"

Step 3: Fill in the information

Step 4: Click "Save". This will prompt an automatic email invitation to the new user including a link to log into Sani analytics.

Step 5: Once your colleague has activated their account, you will be able to see that "Last user activity" changes from "Account not activated" to the time the user was last active.

How to fill in the details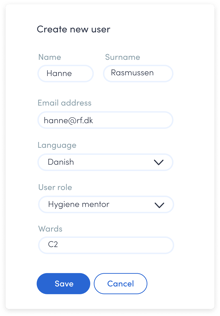 Name: First name of the user
Surname: Last name of the user
Email address: Use their work email. They will use this email to recover a lost password, so ensure that you have written it correctly
Language: The language that is selected, is the language the person will receive emails from Sani analytics in.
Role type: Select between Hygiene mentor and Other healthcare worker
Ward: For the Hygiene mentor, select the ward this person is responsible for. For Other healthcare user, select the ward this person should have view access for.

Sani analytics user types
There are three types of Sani analytics users:
Primary Contact Person

Hygiene Mentor

Other healthcare user



Primary Contact Person
This user type can view all data from all wards, but cannot turn nudging on/off. The user can also add, edit and delete Hygiene mentors and invite other primary contact persons.
A Primary Contact Person is the administrator role in Sani analytics. There can be multiple Primary contact persons assigned.

Hygiene Mentor
This user type can only see data from the ward(s) they are associated with. The primary contact person selects which wards the Hygiene mentor have access to.
The hygiene mentor do not have user view rights.
A Hygiene mentor is a member of staff on the ward with responsibility for Sani analytics on a particular ward. The person act as the go-to person about Sani nudge for other healthcare workers and to lead the team towards improved hand hygiene. The user type can be the head nurse, or a hygiene responsible nurse in the ward.

Other healthcare worker
This user type have only view rights for selected wards.
The role type "Other healthcare worker" can be selected if other healthcare workers (e.g. from Hygiene team, board etc.) would like to follow along in the hygiene improvement work for a ward.
Can I select more than one ward for a Hygiene mentor?
It is currently only possible to select one ward the Hygiene mentor and Other healthcare user can view hand hygiene data for. We are looking into possibilities for viewing more than one ward.
What does "Account not activated" mean?
If you have invited someone to Sani analytics, but this person hasn't activated their account yet, it will display "Account not activated". You may want to remind them to do it.
I have a new email address how do I change it in Sani analytics?
As a Primary contact person you will have to create a new user with your new email address, activate the new account and delete the old one.