This is a guide for how to sign up to receive individual data
All you need is:
Phone or computer with camera and internet access
Your Sani ID
Your hospital's unique signup link
Sign up step by step:
1. Open the signup link in your browser using phone or computer
Each Hygiene mentor can find the URL to sign through at the Individual Motivation page in Sani Analytics. The Hygiene mentor should share the URL with everyone who wants to sign up e.g. print it out and share it through email.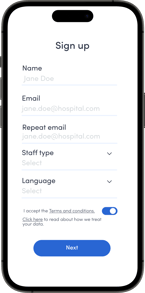 2. Provide information. Provide name, email, and workplace, and select between Danish, Italian, and English as the language for the emails.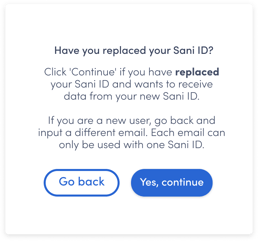 Please note: Only one Sani ID can be registered to an email. If you try to sign up with an email that is already in use, you will get a warning box.

Replaced Sani ID
If you have replaced your Sani ID and signing up to Individual Motivation again, you should press "Yes, continue" to the warning box.
New user
If you are a new user, you must go back and type a different email address.