Individual motivation enables all the healthcare workers to receive their individual hand hygiene level in a weekly report received in an email.
The report brings them increased knowledge on where to improve. They can compare themselves to their colleagues on all measured wards. Everyone is anonymous, and the user is the only one able to view their hand hygiene level.
Individual Motivation page in Sani Analytics
The Individual motivation page in Sani Analytics shows the Primary contact person and the Hygiene mentor the number of healthcare workers who have signed up to receive their hand hygiene level. Still, you will not see who signed up and what their hand hygiene levels are.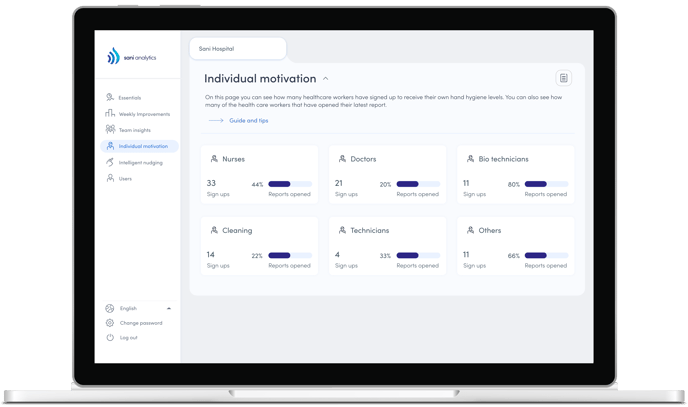 We want to protect your healthcare workers, so we do not show you their personalized reports. However, let's take a look at the type of report they receive, as they are probably going to have a lot of questions for you.
What do my healthcare workers receive?
After signing up for the service, the healthcare worker will each Monday receive an email with a link to their hand hygiene report.
They receive data for each room type on the ward on a weekly basis. They can see their hand hygiene in comparison to their colleagues. Below is an example of the report your healthcare workers receive. We recommend you take a look at it and understand what you see.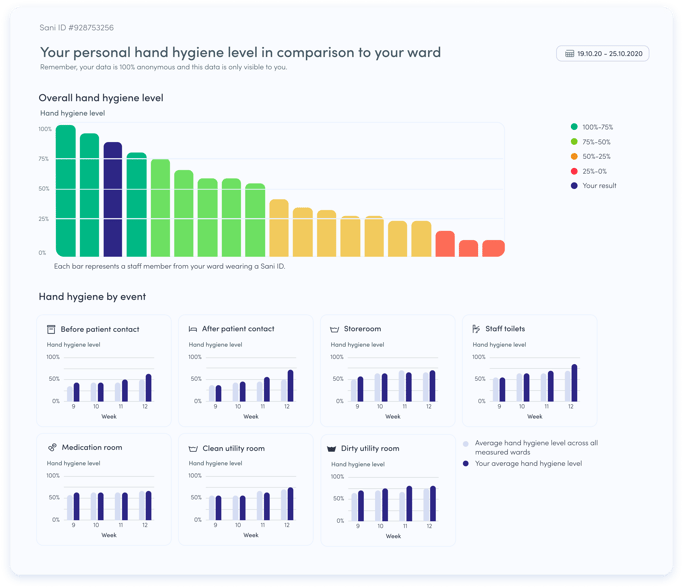 How does the healthcare worker sign up?
Read how you and your colleagues can sign up to receive Individual Motivation reports here.
How can I use this data?
We recommend you encourage your healthcare workers to sign up to receive hand hygiene reports. The more people that participate, the faster hand hygiene will improve, and the quicker you will see a reduction in infections on the ward.
Encourage your healthcare workers to talk among themselves about their own hand hygiene levels and discuss the hand hygiene rules at meetings. Start by focusing on areas that can be improved quickly - such as the staff toilets.
Further help
Use Essentials to get an overview of hand hygiene at the hospital and identify the wards that need the most help.
Take a look at Weekly Improvements to identify the room types at the wards with the lowest and highest hand hygiene level
Use Team Insights to target specific staff groups that are performing poorly in hand hygiene.
Take advantage of the nudging feature in Intelligent Nudging to remind and reinforce good hand hygiene behavior.